ALERT: HURRICANE IVAN & TYPHOON TOKAGE PHOTOS BELOW




IVAN

was our first practical HUR measured on September 15, 2004 at 10:15 am
with eye speed verified at 143 mph & 12 hours estimated by weather service to hit
shore at Louisiana, Mississippi, Alabama & Florida gulf shores.
Its measurements include: the storm density(ICT-APF), verified eye speed of hurricane
or tornado, the control sets required lower storm density rate, the strategic location
placements, the time to reduce storm and eye speed from up to 161 mph to under 70 mph.
We tested and verified measurements but were not prepared to implement controls.


FIRST STORM DENSITY MEASURED


We measured first proprietary storm density rate(ICT-APF), the control units required
clear storm density & can lower eye speed to 60 mph and/or 39 mph before eye hit
shoreline and strategic shore locations of control units. Implementation can reduce
physical losses by 91.2%. A lowered or no eye storm density level can restrict or
eliminate any new tornado spawnings etc for clearer results.
We can prepare special team for ICT-APF measurements, build control unit sets &
personnel and be ready to strategically place units for future hurricanes etc IF insurance
carriers want to prevent losses with our service.

GULF of MEXICO Oil Platforms/Rigs/refineries need New Advanced Hurricane Protection
& GUSTAV TRACK
Our 25 regular or 3 to5 super twin units strategically positioned neutralize counterclockwise winds
"negative charged air particle density" created by hurricanes/tornados at surface to 40,000+ ft
elevation north of equator. Our units are leased for 1 to 5 yrs. Coverage area is eastern Mexico
shores to south Florida or eastern Jamaica shores to protect Gulf of Mexico's 717+ oil/gas platforms/refineries.
Distance is1,141 miles from eastern Mexico shores south of Brownsville, Tx to south Florida or 1481 miles to
eastern Jamaica shores. Our super units cover 1500 radius miles if oil/gas platforms/rig/refiners ask for help.
Gulf platform administrators email us at ict4help@yahoo.com with contact number and details. MMS said
latforms are 220 miles offshore.

On Friday 8/29/08 at 9 am, we tested Gustav path & speed.

Eye will hit New Iberia & Lafayettee, La at 108 mph.


We suggest five (5) super twin units installed at specific points in Tx; Miss.; Fl and Jamaica before
Sunday August 24, 2008. Our (5) installations can neutralize tropical storms counterclockwise
wind & reduce it to under 40 mph in Caribbean. 8/30/08
The units combined strategic placement make them more powerful to neutralize winds than each individually,
reduce damage and production loss at wells and refinery. Gustav to gain strength of 141 mph winds going
over Cuba to drop down to 101 mph leaving Cuba. Gustav did make 141 mph over Cuba and did drop
down leaving Cuba's land for open water.


8/29/08, WE PICKED NEW IBERIA 70 MILES WEST NEW ORLEANS & 108 MPH WIND TO HIT SHORE



We ID specific pollutants, measure its level, calculate control units and strategic placement to effectively reduce air emissions.
We identify pollutants, measure charged air particle density and tornado, typhoon or level 1 (70mph) to
level 5 (155mph) hurricane (HURRICANE) conditions from satellite photo. WE GUARANTEE RESULTS
& YOU PAY FOR 2 day TEST.

Florida, Atlantic/Gulf states and insurance companies must utilize our technology to measure charged air
particle density causing hurricanes and let us strategically locate our control units sets to reduce charged
air particle density to curtail hurricanes and its spawning tornadoes.

We contact

US State Air Quality Directors, Canadian Province Air Quality Directors

and two worst
air pollution US areas. They are

South Coast Air District of LA, Orange, San Bernadino & Riverside, Ca


and TCEQ

Houston District 12 of Harris, Galveston, Brazoria, Ft Bend, Jefferson, Orange, etc counties


to review 1 to 3 of their top 100 largest air pollution emitters.

CRABS, OYSTERS, SHRIMP HARVEST RESTORED-1997 TEST & OUR EQUIPMENT
In 1997, we tested Chesapeake Bay Air Emissions as High charged Air Particle Density(Air Pollution)
significantly decreased normal rainfall, fresh water supply and resulted in lower fresh water table plus farm,
septic and untreated sewerage run off caused high Bacteria & Parasite Disease in oysters, crabs and shrimp decreasing HARVEST.

In 9 months, we decreased air pollution, allowing normal rainfall, adding fresh water supply, lower water
salinity and found our technology did kill bacteria and parasites to save fisheries. After 9 month test, we
removed our equipment but observed a return to Air Pollution, high charged air particle density, lower
fresh water supply, high parasite/ bacteria in micro-organisms and lower harvest of shrimp, crabs and oysters.
WE CAN SOLVE PROBLEM IF STATE OR COMMERCIAL FISHERMAN LEASE OUR
EQUIPMENT FOR PERMANENT HELP IN MD, VA, NC,SC, GA & FL etc. When time permits,
we will contact them for their advice and interest.



VOLCANO


We used control units from far distance to dissipate 1994-95 Volcano Dust Cloud from Pina
Pubo near Luzon, Phillipines in 90 days compared to normal 5 years, US forest fire smoke plumes
in western states from much closer distance within 24 hours as noted next and used visual observation
but now we can premeasure technical results.


FOREST FIRE SMOKE PLUME


In 2000-01, we dissipated forest fire smoke plumes 2-7 miles high within 24 hour period and
they covered multi county areas with multiple sets of our equipment in a visual test during seven western state forest fires.
HURRICANE IVAN PHOTO
Photo is Hurricane Ivan in Gulf of Mexico on September 15, 2004 at 4:10 am with 140 mph winds.
t 10:15 am, we measured HURRICANE's charged air particles density and its eye speed at 143 mph.


TYPHOON TOKAGE


Photo is Typhoon Tokage in southern Japan on October 20, 2004. It is reported as 300 miles wide
nd 80 foot waves but we measured 281 miles wide and 66 foot wave and measured charge air particles
ensity at 29% of Hurricane IVAN.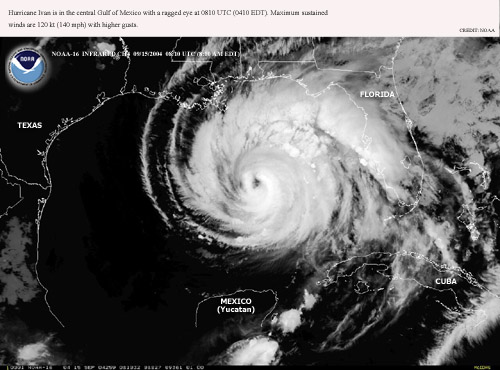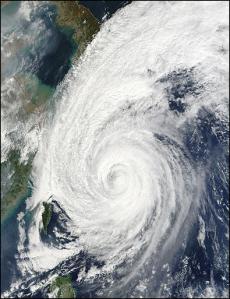 HURRICANE IVAN -9/15/04 TYPHOON TOKAGE 10/20/04